Stone Crab Claws with Cilantro Butter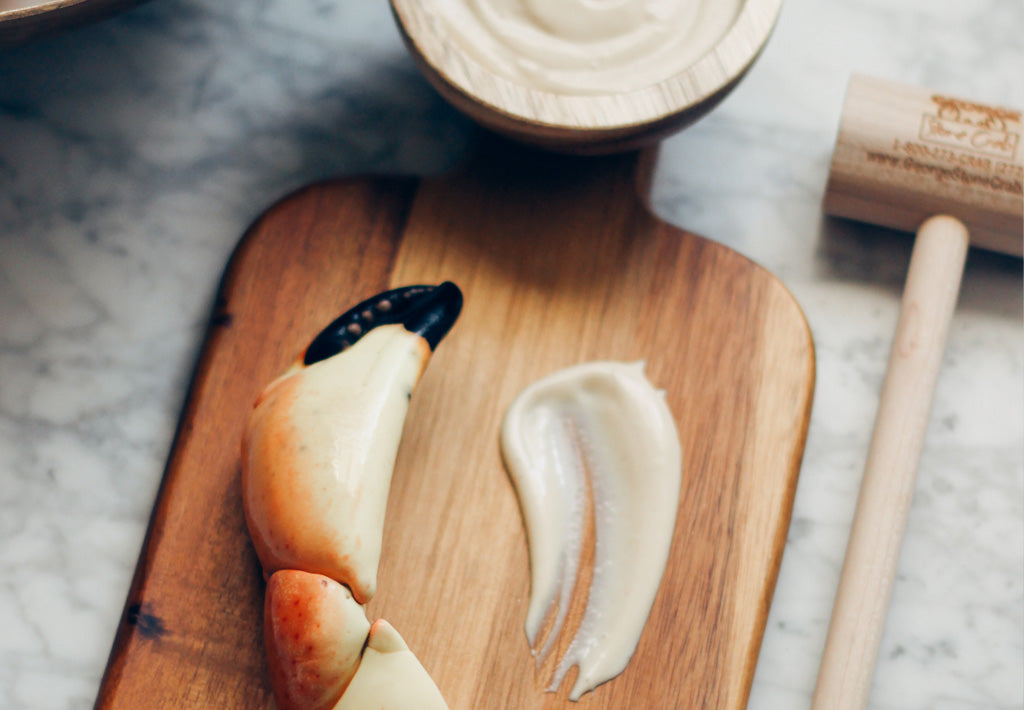 Stone crab claws have a great flavor! Keep them simple with our recipe for stone crab claws with cilantro butter. It's a favorite - and you'll soon know why!
Stone crab claws are an iconic Florida delicacy harvested according to strict regulations. These rules ensure that this species remains sustainable and contribute to the fact that 99% of commercially-harvested stone crabs hail from Florida.
So, if you're a local Floridian or planning a visit outside of the summer peak season, you should make a point of getting your hands on a stash of this local delicacy and enjoying as many stone crab recipes as you can. 
"How do you cook stone crab claws?" is probably the first question on your mind when you get hold of a batch of fresh crab claws.
This guide to making stone crab claws with cilantro butter has got you covered from start to finish. 
Stone Crab Claws With Cilantro Butter
This delicious seafood dish is a hit if you're throwing a dinner party or perfect for a celebratory family lunch during stone crab season. It's a cinch to make and you can prepare the whole thing in about an hour.
All you need is a large pot, a saucepan, and the following three-step recipe:
Ingredients
8 Stone crab claws
1 T store-bought or homemade seasoning
2 T of unsalted butter
1 handful of chopped fresh cilantro
2 Bay Leaves
1 clove of garlic
Garlic powder, ground black pepper, and salt to taste
2 cups of ice
Method:
If you're using store-bought seasoning, you can skip to the next stage of the recipe. When you make your own seasoning, you can adjust it to suit your tastes. Here's how to whip up a delicious seafood seasoning in a flash:
1. How to Make Your Own Seasoning
Most people turn to Old Bay seasoning when cooking crab. You can also use store-bought seasoning for this dish, but you won't get the same sense of satisfaction. 
Here's how to make your own awesome seasoning for stone crab claws:
Ingredients
1 T dried and ground bay leaves

2 t of celery salt

1 ½ t of dry mustard

1 ½ t ground black pepper

1 t of smoked or sweet paprika

1 t of ground celery seeds

½ t of ground white pepper

½ t of ground nutmeg

½ t of ground ginger

¼ t of crushed red pepper flakes

1/8 t of ground cloves

1/8 t of ground mace

1/8 t of ground cardamom

1/8 t of ground allspice
Simply place all the ingredients in a bowl and mix them thoroughly together. Place your seasoning in an airtight container and it will keep for about six months.
2. How to Cook Stone Crab Claws
It's really easy to cook stone crab claws. Follow these instructions and you're good to go. 
Ingredients
1 T of store-bought or homemade seasoning

1 Clove garlic

2 Bay leaves

Salt and pepper to taste
Method
Fill a large, high pan with water.

Add all the ingredients to the pot and bring the water to a boil.

Add your stone crab claws and turn the heat down.

Boil the crab claws for ten minutes.

In the meantime, prepare an ice bath by filling a large bowl with water and 2 cups of ice.

Place your ice bath in the refrigerator.

Remove the claws from the pot with a slotted spoon and transfer them to the ice bath.

Leave the claws in the ice bath for five minutes.

Drain the claws.

Tap each claw with the back of a knife blade, or bang them gently with a

wood mallet

, turning them until they crack open.

Repeat the process with the crab knuckles.
3. How to Make the Cilantro Sauce
It's hard to believe such a delicious sauce is so easy to make. Here's how:
Place a large non-stick pan or wok over medium heat and add the unsalted butter.

Season with your pepper, salt, garlic, and homemade or store-bought seasoning.

Add the fresh cilantro and stir well while the butter melts.

Add the crab claws and let them warm for about 8 minutes. 

Don't stir the crab, rather drizzle it with spoonfuls of butter sauce as it warms.

Place the crab in two deep plates and spoon the remaining cilantro sauce over the top.
This dish is best served hot.
When the claws are pre-cracked like this you don't need to worry about how to eat stone crab claws with special tools. You can simply pry the meat out and tuck in.
Cilantro Butter With Cajun Seasoning
This version adds a Caribbean kick to your stone crab dish. You'll get to make your own seasoning for this one too.
Ingredients
½ t of salt

½ t of garlic powder

½ t of fennel powder

½ t of coriander

½ t of paprika

½ t of white pepper

½ t of onion powder

½ t of chili pepper

¾ t dried oregano

¼ t of dried thyme
Method
Prepare the seasoning by mixing all the above ingredients together.

Follow the recipe for stone crab claws with cilantro butter, but use this seasoning throughout. 
This dish works well with some green onions on the side. 
Where to Buy the Best Stone Crab Claws
Stone crab claws can be expensive, so you want to make sure you're getting the best quality for your money. 
The best stone crab claws are fresh from the sea, frozen claws simply don't have the sweet delicate flavor of freshly harvest claws.
The claws should look a healthy, reddish-brown color with a distinct black tip. Stone crab claws shouldn't smell strongly of fish, the best quality fresh claws smell mildly of the ocean.
We offer an excellent range of premium grade stone crab claws in all the most popular sizes. So, if you're planning to enjoy stone crab claws with cilantro butter any time soon, order yours now or get in touch for more information. 
Featured in…