How to Prepare Marinated Stone Crab Claws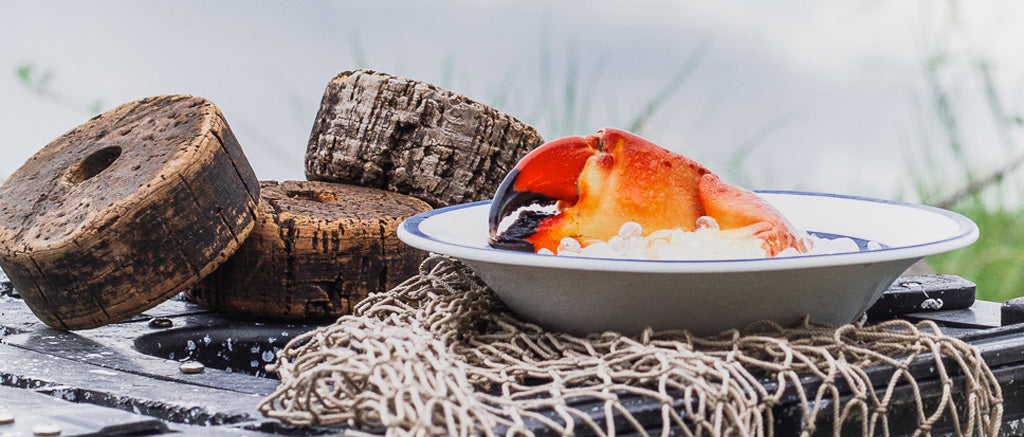 If you love seafood and haven't tried stone crabs - you're missing out! Florida Stone crab is a variety of crustaceans commonly found off the coast of Florida. The flavor and richness are similar to lobster or shrimp and the shelling process is similar to other varieties of crab.
There are dozens of ways to prepare stone crab claws. This article will highlight recipes that use marinated stone crab. Marinating is the process of soaking food (usually meat or seafood) before cooking. It's a simple technique that makes a huge difference in flavor.
Ready for your new favorite crab recipes? Let's go!
Asian-Inspired Marinated Stone Crab
This recipe uses Asian ingredients to produce a unique flavor profile that doesn't overpower the delicate crab meat. For best results, prepare the marinade and the crab the day before you want to eat them to allow the crab to absorb the flavor overnight.
Ingredients for Marinade:
1 yellow onion finely chopped

1 apple chopped

4-5 cloves of garlic

1-inch ginger, peeled

1 jalapeno (optional)

2 pieces dried kelp

2 cups soy sauce

1/2 cup mirin or rice wine

1/4 cup sugar

6 cups water
Instructions:
In a large pot, add all of your marinade ingredients. Bring to a boil and simmer for about 25-30 minutes. 

Strain the mixture and keep the liquid. Let it cool.

Once the liquid is at room temperature, pour it over your stone crab claws. 

Refrigerate overnight. Serve with warm rice or noodles.
Super Simple Marinated Stone Crab 
Not much of a chef? Or short on time? Check out this recipe for simply marinated crab. 
Ingredients:
1 lb stone crab claws

1 cup tarragon vinegar

2/3 cup vegetable oil/canola oil

2/3 cup sugar

2 t salt
Instructions:
Crack stone crab claws and remove the outer shell. Leave the meat attached to one side of the claw.

Combine marinade ingredients and mix until sugar and salt dissolve.

Pour mixture over crab to marinate crab meat, cover, and store for at least 2 hours.

Drain liquid and serve crab with green salad, french fries, or another side of your choosing!

Looking for sides or dips to go with your marinated stone crab? Check out these ideas!
Spicy Crab Claws
If you have a crowd that's not afraid of some spice, try this spicy crab claw recipe. The spice primarily comes from the hot sauce and pepper flakes, so feel free to adjust the amount based on your desired spice level.
Ingredients:
1 T red pepper flakes

Hot sauce (to taste)

1/2 cup butter (unsalted)

1 cup olive oil

1/2 cup green onion (finely chopped)

1/4 cup sliced garlic

1/4 cup chopped parsley

1/2 cup red wine vinegar

3 T lemon juice

2 T Worcestershire sauce

2 T soy sauce

Salt and pepper (to taste)
Instructions:
Heat butter and olive oil over medium heat.

Add green onions, garlic, parsley, and red pepper flakes; cook for about 1 minute.

Add vinegar, lemon juice, Worcestershire sauce, and soy sauce; bring to boil. Reduce to a simmer and cook for additional 5 minutes.

Season with salt, pepper, and hot sauce, and then remove the mixture from heat.

Place stone crab claws in a zip-lock bag or glass baking dish and pour marinade over claws. Seal the container and refrigerate for at least 8 hours or overnight.

To serve, drain marinade and enjoy crab with toasted garlic bread.
Mouth-Watering Mango Marinade
Here is a tropical take on stone crab marinade. When picking mangos at the store, gently squeeze the fruit. Ripe mangos have a somewhat soft texture like ripe peaches or avocados.
Ingredients:
3 pounds medium stone crab claws

2 cups mango, cut into small cubes

3 T cilantro (finely chopped)

2 jalapeños (seeded and finely chopped)

4 T fresh lime juice

1 T light brown sugar
Instructions:
Crack claws and remove the outer shell, leaving the crab meat attached to the pincer. Place in a shallow dish or baking pan.

Prepare marinade by combining mango, cilantro, jalapeño, lime juice, and brown sugar. 

Spoon the marinade over stone crab meat and cover. Refrigerate for 2 hours or overnight. Serve with mixed greens and fresh mango or with coconut rice.
Herb-Marinated Crab
This marinade recipe is great for stone crab but will work for other types of crab too. The key is to find fresh herbs for the best popular flavor.
Ingredients: 
2-3 crabs

1⁄2 cup olive oil

2 T red wine vinegar

2 cloves garlic (chopped) 

1 T fresh oregano

1 T fresh parsley

Salt and pepper (to taste)
Instructions:
Mix olive oil, vinegar, garlic, oregano, parsley, salt, and pepper in a small bowl.

Pour marinade over crab meat and refrigerate for several hours or overnight.

Serve with hearty sourdough bread.
Beer-Infused Stone Crab
You like drinking beer, so why not use it for your stone crab recipe? You can use whatever beer you like, but a brown ale is probably going to give you the best flavor. The beer is used to steam the crab, so the final product is not alcoholic - but it can be paired with a drink!
Ingredients:
2 pounds stone crab claws

3 T olive oil

1/2 cup lemon juice

2 T fresh parsley (chopped)

2 T garlic (finely chopped)

1 (12-ounce)  beer

1/2 cup water

1 onion (cut in quarters)
Instructions:
Combine crab claws, olive oil, lemon juice, and parsley in a large bowl. Cover and refrigerate for several hours or overnight. 

Combine garlic, beer, water, and onion in a large pot. Place crab claws in a steamer basket.

Drain marinade.

Bring the beer mixture to a boil and place the steamer basket over the pot. Cover and steam for about 10-15 minutes. 
Whether this is your first time or hundredth time cooking stone crab, these marinade ideas are worth a try! Get a richer, more exciting flavor from your stone crab. 
The longer you let the crab marinate, the more flavor will be absorbed into the meat. But if you can't leave your crab to marinade overnight, a few hours will be fine.
All of these stone crab recipes are designed for fresh crab, so be sure to order from George Stone Crab today!
Featured in…