What Does Stone Crab Taste Like? Is It Good?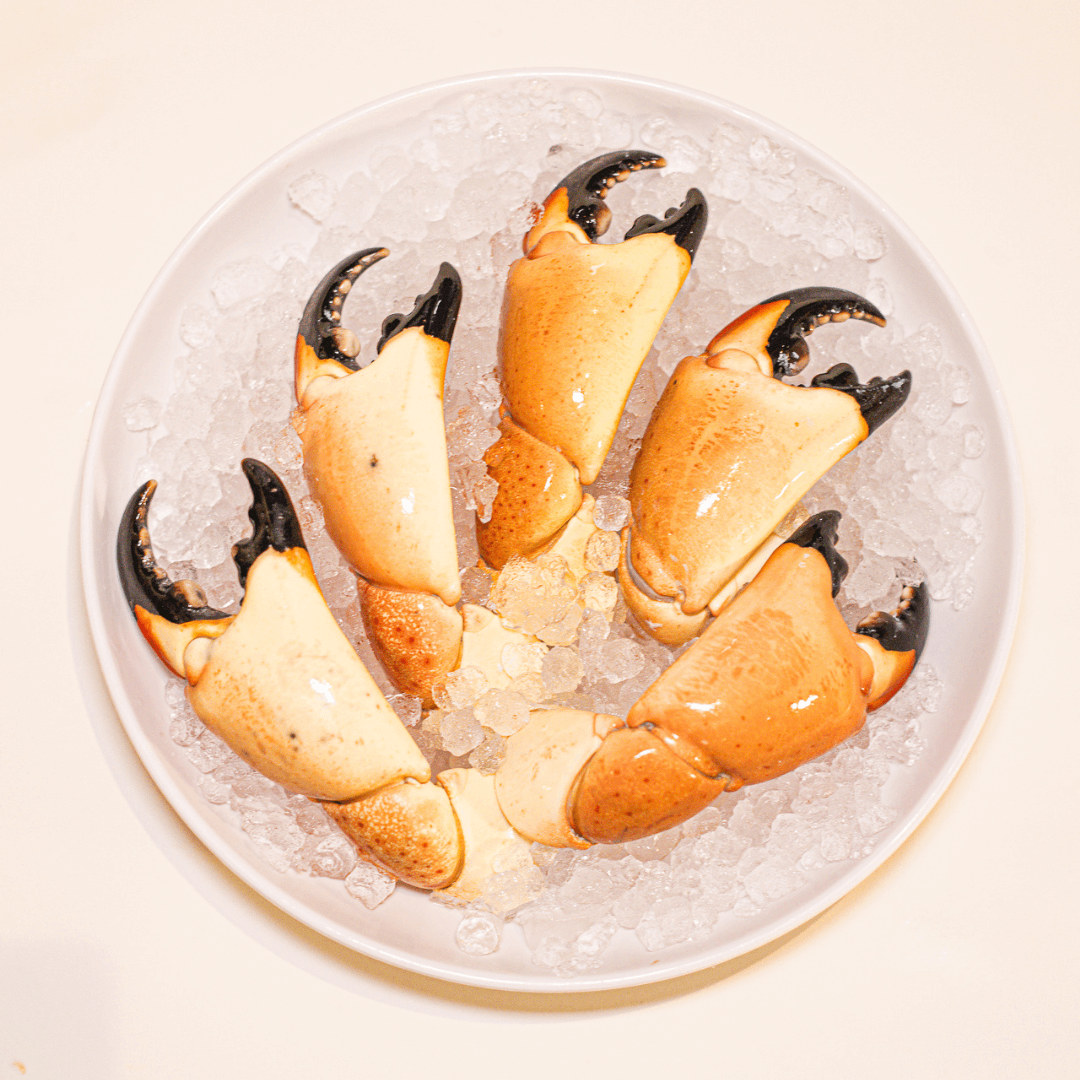 A crab claw is one of the main attractions of a stone crab meal. However, many diners have never actually tasted the claw and are confused about what to expect -- is it meaty, chewy, or sweet? To make things easier to understand, we've put together this guide on what a stone crab tastes like and insights into what it will be like to eat one.
Stone crab claws are either slightly sweet or very sweet. They have a strong and distinct flavor but sometimes can have a slight fishy taste and smell. Stone crabs should be eaten while they are warm, so once they are picked, they should be put directly on ice or into hot water and then placed into the refrigerator. 
What Does Stone Crab Taste Like?
The short answer is: delicious! While stone crabs are not the only crab available on the market, they are versatile, meaty, and tasty to many consumers. Stone crabs are a crustacean, meaning they contain no cartilage or bones. The flesh and the claws are really where their sweetness comes from.
Stone crab claws have a lot of saturated fat, which is why they are best when eaten at room temperature. It is essential to always check for hot spots before serving; if the crabs are warm, they can be painfully hot for your mouth. Beyond that, there are several different stone crabs, each with a distinctive flavor and texture. 
1. The Coveted Stone Crab Taste
To many, stone crabs are the "king of crustaceans ."They have a distinct taste, which is why they are sought after. Cove stone crab meat is considered a delicacy due to its time to prepare for sale. Fresh stone crab meat has a chewy texture and mild flavor when cooked and chilled. They have a slightly sweet flavor but are not overpowering and are a great addition to most seafood dishes.
Many people opt for stone crab meat because it tastes like bacon, giving the heart a meaty texture and savoriness that goes perfectly with any meal. They have a softer texture that many people find appealing and offer a lot of taste with little work. These crabs are native to various parts of the world and in different waters. Their meat comes from females that have lived for a longer time and have built up a portion of starch around their claws. 
2. The Uniquely Sustainable Stone Crab
Stone crabs lump sweet and succulent meat. They are all caught from the exact location but sold at different times of the year. The heart, found in the shell, can be cooked to various textures and colors. If a bright red color is desired, then be sure to cook it over hot coals or on an outdoor grill. This will give you a better taste and an attractive presentation. They are eaten very similar to crayfish and are typically available on the same menu as rock oysters, shrimp, and scallops.
Most people wonder what does stone crab taste like or are concerned about how to enjoy one. The taste is clean and sweet and can be enjoyed either boiled or roasted on the grill. Stone crabs are versatile seafood, as they can also be cooked in soups or broths to add a sweet taste. They are perfect in blackened recipes, as well as with vinaigrettes. 
Is Stone Crab Good?
What does stone crab taste like? Stone Crab is a nutritious shellfish that offers a lot of nutritional value to the person consuming it. Each claw provides a quick shot of protein, calcium, and other minerals. If you need help deciding what to have for dinner, consider having a stone crab. They're easy to prepare but require a little bit of patience. The meat is used in many recipes, including breaded and fried crab balls and cakes. Many people enjoy eating the claws on their own and will only eat them this way.
Crabmeat offers a lot of nutritional value, as well as a great source of protein for many people. Crab legs are one of the most popular seafood dishes and are typically served with a side of fries or cole slaw. The meat is often mixed with various ingredients to make a delicious sauce, which can be done on other seafood dishes. Most people choose stone crab taste like because of its sweet and succulent taste. They are delicious and offer an excellent chance to get a lot of nutrition to boost your health. This is a great food to have in your diet because it provides a lot of nutrients that can help keep the nervous system healthy. 
 
The stone crab taste and how to prepare them are fascinating and delicious. Many people like to eat crab claws because it's delicious and has a lot of nutrition. This is one of the most delightful seafood in the world, and many people may find it hard to describe the taste. However, if you want to know what does stone crab taste like, then you should try this seafood. This is a very delicious seafood that will surely fill your appetite.
Stone crab tastes excellent when eaten with some sour cream or mayonnaise. The stone crab taste is safe to know, and therefore depending on the flavor that comes out there is what you enjoy most. After eating a stone crab, the whole body is full of nutrition, and then the person can relax and enjoy the rest of the day. With a little bit of sour taste, you will enjoy your stone crab, which will also make you have a good time. This is one unique taste you can try in your life. If you want to know what does stone crab taste like, then you can prepare yourself by finding a way to get one. 
Where to buy stone crab claws?

 
We believe that the best stone crab claws are never frozen, that's why we have a dedicated team of more than 80 fishermen bringing in the freshest stone crabs for you.
Packed and delivered in less than 36 hours of being caught and cooked to get them to you overnight all around the US and Canada. Order now your fresh stone crab claws with us while they're still in season: Start here.
Featured in…