How To Cook Frozen Stone Crab Claws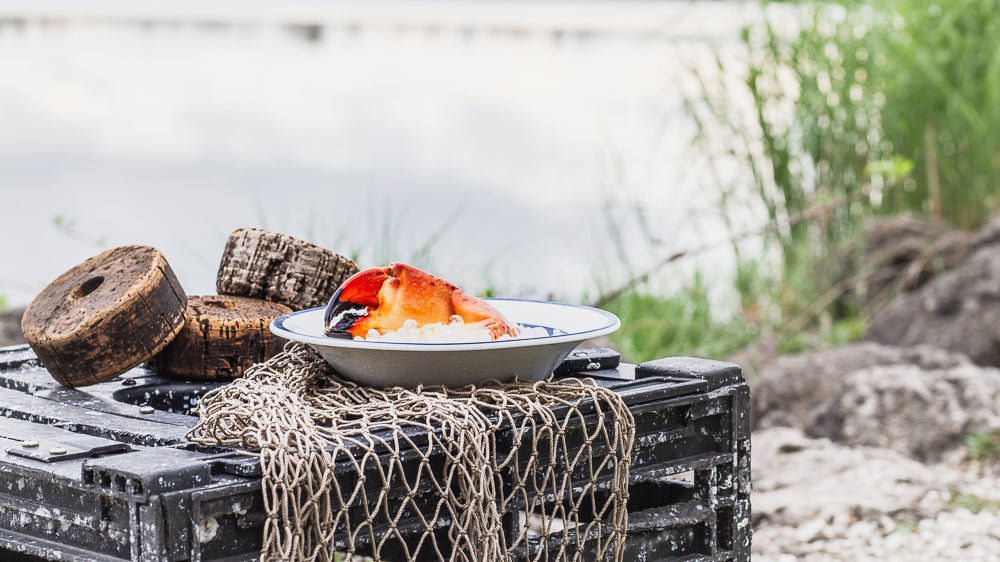 Winter in Florida means something completely different than many other states. Inches of snow and freezing temperatures won't be descending upon the Sunshine State. Instead, mild and sunny weather will reign, along with one other very important thing.

Stone crab is one of the most popular foods that hails from Florida and the season runs from October 15 through May 1. You might not be able to get over to Florida to harvest some crabs, but many local fish suppliers offer online ordering and shipping.

You may not know how to cook frozen stone crab claws and that's okay! With the proper preparation, you can whip up a Florida state delicacy in no time. For chefs looking to prepare a delicious meal at home and discover how to cook stone crab properly, read on for more information.

In Florida, the stone crab is king. Stone crab claws are a feature of restaurants all throughout the state. One reason why is that everyone can learn how to cook stone crab claws.

How should you prepare your claws? How can you boil, bake, and grill them? How can you incorporate your claws into recipes, and how can you heat cold claws up?

Answer these questions and you can make your next seafood meal one to remember. Here is your quick guide.
How to Cook Stone Crab Claws
There are certain steps that you need to take before you can begin cooking your stone crab claws. For frozen stone crab, it has to be thawed before cooking. You can thaw your crab claws in your fridge for 48 hours before cooking, running them under cold water, or thawing in the microwave.
If you don't want to eat your crab claws immediately after receiving them, the thick shell of the crab claw will protect it for up to six months in your freezer. Frozen stone crabs come fully cooked, making them an easy meal for you to whip up that will impress your guests.
Whether you eat the stone crab claws hot or cold is up to you. If you prefer them cold, you can just crack them open and eat them once they are thawed.
You want to just warm the crab claws if that's your preference, not cook them. Steam your frozen crab claws for five minutes to thoroughly warm them all the way through, serving them alongside melted butter.
Thawing and Defrosting
You should never cook with frozen stone crab claws. They may not cook evenly, or they may start a fire when exposed to hot oil.
If you have several days before you need to cook, you should defrost your claws in the refrigerator. Lay them out on a plate or pan and leave them in the fridge for at least 48 hours. They will still be cold, but there will be little ice.
If you need to thaw them faster, rinse your frozen stone crab under cold water. Let them dry for 15 minutes, then put them in a bowl. Add some cold water into the bowl and place it in the fridge for an hour. 
Boiling
Boiling is the ideal way to cook your crab. Take a large pot and fill it with three quarts of water. Put the pot over a stove and bring it to a rolling boil.
Add one half-cup of salt into the water. You can stir the water around so the salt distributes evenly through the pot.
You can cook six crab claws at once. If you have more, you will need to cook them in batches.
As your claws go in, the temperature of the water will drop. Keep your stove on high and wait for the water to return to boil. Cover the pot with a lid and reduce the stove to medium heat.
The claws will take roughly ten minutes to cook. If they are thick, they may take slightly longer.
You cannot tell that your claws are done based on touching or seeing them. You will smell the meat as it reaches the temperature. Once you do, you should pull the claws out.
Use a spider strainer or spoon to remove your claws. If you are making two batches, you can use the same water to cook your second batch.  
Grilling and Baking 
Grilling and baking are good ways to cook if you want dry crabmeat. You must be careful not to burn or overcook your claws. 
For grilling, turn your grill on to medium heat. Baste your claws with olive oil on all sides.
Once the temperature is up to 325 degrees, put your claws on. Cook them for five minutes, then flip them over. Wait for another five minutes to pass before serving.
For baking, preheat your oven to 350 degrees. Place your claws on a sheet pan in one flat layer.
Pour one cup of hot water over them. Cover the pan with aluminum foil and place the claws in the oven for ten minutes.
Whether you are grilling or baking, you need to make sure your claws are cooking correctly. Overheating your meat will cause it to lose some flavor and texture. Adjust your heat if it is running too high.   
Cracking Your Stone Crab Claws
Stone crab is called "stone crab" because it is as hard as a rock. You will not be able to crack your claws in your bare hands without hurting yourself.
Use the back of a thick wooden spoon or a mallet to crack the claws open. You do not have to swing hard. Apply enough force that the outer shell splits.
Peel back the shell and remove the meat inside. Some of the meat may stick to the shell. If that is the case, pry it loose with your fingers.
Frozen Stone Crab Recipes
You can incorporate crab meat into different recipes. You can make crab salad, mixing the meat with mayonnaise, onion, and seasoning.
You can also make crab cakes. Combine the crab meat with mayonnaise, crackers, and seasoning. Form patties and fry them on the stove.
If you want to focus on the claws, you can serve them with different dips and sides. Mustard sauce is a common dip. Combine mustard powder with mayo and steak sauce to make a spicy topping.
Cilantro butter combines butter, cilantro, and lime. This makes a Florida-style dip with a citrus kick. Crab claws work well with side salads and roasted potatoes.
Reheating Crab Claws
You should not use the microwave to defrost or cook your meat. But you can reheat crab claws in the microwave if you are careful.  
Spread your cooked claws out on a microwave-safe dish. The dish should be as flat as possible. Do not stack your claws in any way.
Crack your claws open. This will allow the heat to penetrate into the meat and prevent the shells from bursting.
Turn your microwave to a medium setting. Heat the claws for two minutes while keeping an eye on them. Serve them as soon as they are done.
Get the Best Stone Crab Claws Today
Stone crab claws are quite versatile. You do need to thaw them overnight in the refrigerator or under cold water. But you can boil, bake, and grill with them. Cook them in boiling water for ten minutes. Bake them in the oven for ten or grill for five minutes on each side.

Crack them with a spoon or mallet. You can incorporate the meat into a salad or cakes.
You can also serve the whole claws with dips. Reheat your claws in the microwave.

Not all crabs come alike. George Stone Crab provides premium stone crabs.
Start your order here.
Best Dipping Sauces for Stone Crab Claws
Whatever you pair with your crab, you're looking to accentuate the flavor of the crab, not overpower it. There are many dipping sauces you can make if you're looking to jazz up your crab-making routine.
Joe's Mustard Sauce
Modeled after the sauce served at a popular restaurant in Florida, Joe's Mustard Sauce is perfect for hot or cold crab legs. For this sauce, you will need:
1 cup mayonnaise

1 T dry mustard

2 t Worcestershire sauce

1 t A-1 sauce

2 T light cream

Salt
Place the mayo and the mustard in the bowl of an electric mixer, beating it for one minute. Once thoroughly combined, add in your remaining ingredients and beat until creamy and blended. If you want a bit more of a tang, add in up to 1/2 teaspoon more mustard.
Brandy Mayonnaise
Brandy Mayonnaise is a tangy sauce that is perfect for your steamed crab claws. The ingredients include:
1 cup mayo

3 T brandy

3 T ketchup

2 T sour cream

2 t Dijon mustard

Juice and zest of one lemon

Salt and pepper to taste
All you need to do is combine the ingredients in a bowl and serve alongside your crab claws. The sweet-and-sour flavors you get from the brandy, sour cream, and ketchup will give your crab legs a kick.
Jalapeno Honey Sauce
Want to add even more of a punch to your dipping sauce? Jalapeno Honey Sauce isn't for the faint of heart, but pairs nicely with a delicate stone crab claw. For this sauce, make sure you grab the following ingredients at the grocery store:
1 T butter

3 small seeded and diced jalapenos

1/4 cup rum

1 cup BBQ sauce

1 t cayenne pepper

1/4 cup honey
Melt your butter in a saucepan over medium heat. Add in the jalapenos and rum, turning the heat up to medium. You will want to reduce the liquid by half.
Put in your remaining ingredients and simmer over low heat, making sure you stir frequently. The Jalapeno Honey Sauce can be served hot or cold with your crab legs.
Popular Side Dishes for Stone Crab Claws
Prepping and cooking your frozen stone crab claws takes no time at all. If you want to eat your crab claws cold, all it requires is thawing them out. That leaves you more time to prepare delicious dipping sauces and side dishes that will add to the flavor of your crab and not steal the show.
Potatoes are known for complimenting crab and other types of seafood. Potatoes are mild and can be jazzed up with other flavors. Serve a baked potato with your crab legs, mixing some garlic butter and sour cream for your potato.

Steamed or grilled corn on the cob are perfect for a traditional seafood meal. If you want to take it up a notch, add in some spicy butter or other sauce. Make a summer corn salad with black beans, jalapenos, red onions, and a light dressing.

Grilling other vegetables are a popular side dish for crab. Throw some asparagus on the grill with your corn and garnish with melted butter. Have you noticed that butter is a common theme when making a stone crab claw meal?

Master the Art of Cooking Frozen Stone Crab Claws
Learning how to cook frozen stone crab claws is a simple process that you can adopt into your cooking routine. While stone crab claws may be expensive, if you're celebrating a birthday, anniversary, or just a quiet night in, they make for a delectable treat for you and your loved ones to enjoy. Ordering online from a reputable fish warehouse will ensure you're receiving a quality product.
When you receive your frozen stone crab, you can expect to see small black spots on the claw. That's the bruising the claw receives from Sea Urchin spines when the crab cracks a Sea Urchin shell to eat. That does not mean your crab is bruised or harmed in any way.

To check out the stone crab claws we offer at George Stone crab, check out our online shop and place an order today.
Featured in…